Hi, I'm Jordan A. Rothacker and this is the website of my publishing news
Here you will find from the tabs above, scans of my early magazine journalism (mostly travel writing and health/nutrition articles), links to my literary essays and reviews, connections to published fiction and poetry, and upcoming news about future works in line to be published. There is also a blog, "Work and Days," that I update so rarely that it could barely be considered a blog. I recently finished a PhD at the University of Georgia in the department of Comparative Literature successfully defending my dissertation, "On Cultural Guerrilla Warfare: The Artist and Activism" in which I focus on three case studies of artists in relation to their respective states: William T. Vollmann in the U.S., Ai Weiwei in China, and Pussy Riot in Russia. If for some reason you need to contact me, you can do so at jordan@jordanrothacker.com.
If you're interested, here is The True Story of William T. Vollmann's Research Assistant (me) for his important two-part tome, Carbon Ideologies, published at Heavy Feather Review.
My most recent book is  My Shadow Book by Maawaam (Spaceboy Books, 2017) and a selection was published at Heavy Feather Review in June 2017. Take a peek into the book and begin to ask the question, Who Is MAAWAAM? You can learn more at the Spaceboy site. Here is the front and back covers!!! I'm pretty excited to share this weird wonderful book with the world.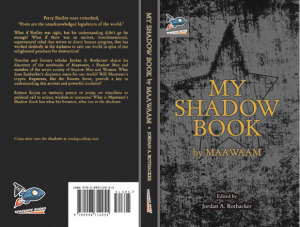 The blurbs ain't too shabby either:
"My Shadow Book contains multitudes. It's a fascinating collage of quotations, diaries, drawings, aphorisms, confessions, short fictions, and political manifestos. Concealed within is a clever Mobius strip narrative and an invitation to a secret society comprised of history's most subversive artists. It's many potential books in one, waiting only for a reader to bring it to life."–Jeff Jackson, author of Mira Corpora and Destroy All Monsters
"Jordan Rothacker's ebullient, entrancing, playful, linguistically sensuous MY SHADOW BOOK is a triumph of narrative and structural inventiveness. As the intrigues and mysteries unfold, Rothacker's polyphonic storytelling becomes a journey of ever-increasing entrancement. Invoking the epic speculative works of Clarice Lispector, Milorad Pavic, Edmond Jabés, and Borges, MY SHADOW BOOK is a masterfully crafted kaleidoscopic reinvention of literary beauty: a fragmented, arcane, haunting, and deliciously luxurious complexity of shimmering light that illuminates the very edges of thought and language."–Quintan Ana Wikswo, author of The Hope of Floating Has Carried Us This Far and A Long Curving Scar Where The Heart Should Be
"In My Shadow Book Jordan Rothacker is amanuensis to a mysterious yet familiar intelligence, and is our guide to a literary operation where—between the fragments, aphorisms, and stories—we are reflected in his gleaming scalpel. Part autopsy, part reconstruction, a stitched maze, here is the melancholy play of Borges, delighting along the seam between Boswell and Roswell. Rothacker's shadow men maintain an Area 51 of style and secrets. Recognize yourself there, or discover yourself there, the joy of this shadow book is in its devotion to the personal canonical, to discovering alien knowledge, the voices, zones, and memories that preserve us."–James Reich, author of Mistah Kurtz and Soft Invasions
"In My Shadow Book, by Maawaam, editor and writer Jordan A. Rothacker weaves a tapestry of symbiotic diary entries, sections of prose, drawings, and dark musings from a dark and light soul who seems to teeter along the precipice of falling into eternal gray shadows. If the writer Maawaam is a word tour guide through existential angst and evanescent clarity then Rothacker is the hidden conductor, keeping time to his haunting song. Like ink dripping from a gothic paintbrush, text varies from expertly relayed metaphor to psychological realism. In one section Maawaam decrees: 'We bring out this army of bricks and stones and build this city…protecting truth, it moves from tower to tower,' and in the next, this modern seeming sage bemoans: 'I wish I could just walk into to the light, live in the light. I wish I could just give up the ghost.' Readers can be grateful that Maawaam keeps his ghosts close; we feel them on every page."–Jennifer MacBain-Stephens, author of Your Best Asset is a White Lace Dress and The Messenger is Already Dead.
"In the sublime My Shadow Book, Rothacker carefully traces an aesthetic genealogy of shadow-thinkers, deftly fusing it to his own narrative. The end result is stunning, mesmerizing, an idiosyncratic mythology, reminding us of the possibilities of what this strange thing we call 'a book' can be. Rothacker offers up a graceful and radical counter-poetics to give the reader deep and serious pleasure in our troubled times."–Alistair McCartney, author of The Disintegrations
"Rothacker continues to surprise and delight as he smashes literary norms with My Shadow Book. Rothacker serves as curator to the lost notes of Maawaam, a Shadow Man, that chronicle, analyze, and craft a message meant to heal a desperate world. Through Maawaam's inner most thoughts, perspectives on the successes and failures of fellow Shadow Wo/Men, and snippets of his writing, we witness his evolution. Rothacker's message is integral in any age: to write, to read, and to live makes us a part and party to the entire unraveling of human history—bridging time and space seamlessly. As long as a story can be told, it can live. As long as a story can live, it can live forever."–William M. Brandon III, author of Silence
Interviews:
In the Summer 2018 issue of Rain Taxi Review, Jorge Armenteros interview each other about our recent books.
Brilliant writer, editor, and publisher, Duncan Barlow, interviewed my about My Shadow Book at Vol.1 Brooklyn and it was a lot of fun and reads pretty well.
At Blood Tree Literature I interviewed myself about the book and the kind editors there also ran an excerpt.
Reviews:
Cleaver Magazine
2016 saw the publication of my first full-length novel, And Wind Will Wash Away (Deeds). My wind book was completed in 2005 after three years of research and writing (recently I had the strange pleasure of revising my younger self). It is the actual reason I initially came to Georgia to do a MA in Religion at the University of Georgia (my MA thesis consists of two chapters of the novel and then annotations on those chapters). AWWWA is a religious novel in the spirit of Dostoevsky and involves a police detective investigating a mystery through the religious underbelly of Atlanta in 2003 complete with sacred prostitution, goddess worshippers, and Aztec revival cults.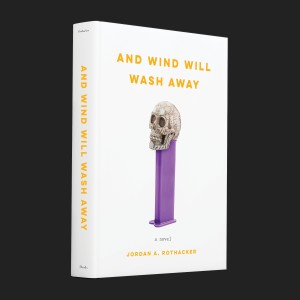 Reviews of the book:
Interviews about the book:
Summer of 2015 saw my first published book of fiction from Black Hill Press. BHP is a wonderful small press out of Los Angeles that only does novellas. I call, The Pit, and No Other Stories, a micro-epic since it is brief but scales big across time, geographies, voices, and style. The cover art is by renowned illustrator Sam Pash and I couldn't be happier with his work. It is a super fun read–my wife loved it, and that's all I need to know–and it is only $12, so get yourself one!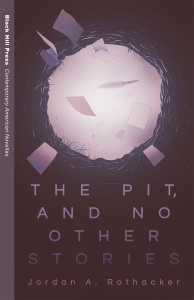 Reviews: